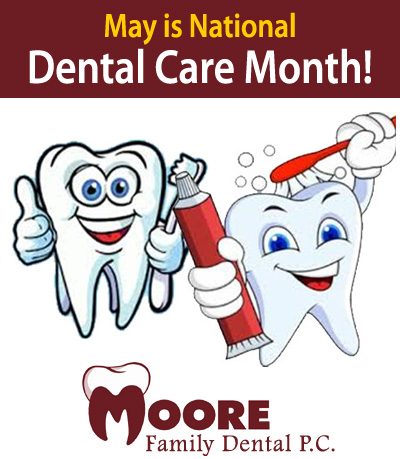 There's a new national month dedicated to taking care of your smile, last year (May 2018) marked the first annual National Dental Care Month.
According to the National Day Calendar – who commemorate these days & months:
National Dental Care Month brings awareness just in time for a summer full of family reunions, weddings, and vacations – all times when we love to take pictures and smile! So, brush up on your dental care and check up with your dentist.
Take stock of your daily dental hygiene regimen
Are you as diligent as you can be about brushing for #2min2x a day, flossing daily, rinsing with mouthwash, and generally treating your teeth & gums like you want them for life?
Schedule a visit with us
If it's been over six months since your last dental exam or checkup, do yourself a favor and schedule an appointment. Regular dental visits help us not only maintain a healthy smile, and promote overall health, they also save us money on dental care by catching and treating small issues before they become complicated, expensive problems.
At Moore Family Dental, we have the latest technology to make your visit as quick, convenient and comfortable as possible. Please contact us with any questions or to schedule an appointment.