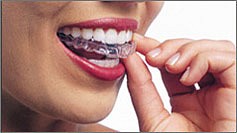 Invisalign is a system of straightening teeth without the use of conventional braces. A series of clear plastic aligners are utilized to create tooth movement. Moving teeth with removable aligners is not new. However, the computer program, which can generate a series of aligners with small changes is the new part. Invisalign is recommended for orthodontic situations with mild to moderate spacing or crowding. They are virtually undetectable, easy to use and comfortable to wear.
Our Invisalign Treatment Includes
FREE Consultation
FREE Clear Retainers
FREE 12 Month Aftercare
FREE Tooth Whitening
Invisalign Preview
The perfect opportunity to evaluate if Invisalign clear braces are right for you

Here is the process and what to expect – there is no financial obligation:
Call us or contact us to setup a brief 1/2 hour appointment
You would meet with the Dr. Moore to discuss the areas of improvement and the dentist would make recommendations on whether Invisalign is an appropriate solution for you.
All questions are answered and you will be told how much your specific Invisalign treatment will cost, the actual duration, and learn about our interest free payment plans.
If you like what you see and hear at the consultation, you would setup an appointment to take the necessary X-rays, photos, impressions of your teeth, and other necessary records that Invisalign needs.
You would then schedule a follow-up visit us in 2 weeks to review their clincheck, or the video animation of what Invisalign will do for their smile.
The clincheck will show exactly how many Invisalign aligners will be used and how long you will be wearing the aligners before the treatment is completed.
After you have seen what Invisalign will do, you can make the decision if you are ready to start treatment before they financially commit.
It's simple, but effective!
Ready to get started?
Simply submit the brief form below or call us at 716.835.1670.