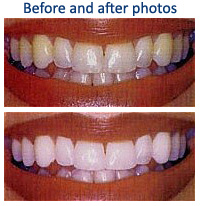 Teeth whitening is a quick and easy way to improve your smile. Over time our teeth tend to become discolored or stained.  Whether this is from smoking, coffee, or any other foods, a beautiful, whiter smile could be closer than you think.  We offer safe, inexpensive solutions to a whiter smile.  Whitening your teeth is a very simple procedure that can be completed in relatively short period of time. Our office offers:
Glo Science Professional Whitening System
These teeth whitening products are the highest concentrations and applied by our trained professionals. Glo Science Professional produces the most dramatic results in just 32 minutes with no sensitivity. Results are instant and longer lasting.
Take Home Whitening Applicators
A wonderful way to enhance and touch up your Professional Chairside whitening visit. The GLO Brilliant Personal Teeth Whitening Device reinvents the experience of teeth whitening using patented G.L.O. (Guided Light Optic) technology, combining professional elements of heat and light built into a one of a kind – closed system mouthpiece that accelerates the whitening process, preventing the whitening oxygen from escaping the tooth surface, bombarding the stains and making the whitening process more effective and more efficient.
Gift Certificates are available.