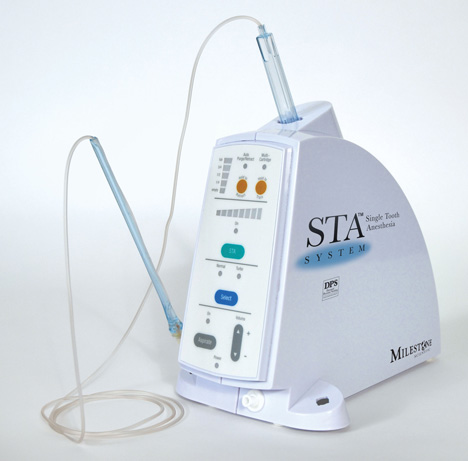 We know that some patients get more nervous than others at the mere sight of a needle and syringe. At Moore Family Dental, our goal is to keep you as relaxed and comfortable as possible.
The Wand is a computer-assisted system for local anesthesia. It carefully guides our dentists as they are performing dental injections. Patients who experience our technology will find it offers less pain and more contained numbness for the area that is being treated by using single tooth anesthesia (STA).
The Single Tooth Anesthesia (STA) provides painless injections for all routine dental treatment including root canals, crowns, fillings, and cleanings. Milestone Scientific's computer-controlled local anesthetic delivery system doesn't look like a syringe. It doesn't feel like a syringe. And, what's more, it works better than a syringe resulting in a more pleasant experience.
What are the benefits of the Wand/STA?
No need for the traditional dental syringe ("the shot"), thus reducing patient's initial anxiety
Injection is much more comfortable and less painful for the patient due to precise control of anesthetic flow rate
Only the single tooth being worked on is anesthetized, thus decreasing post-operative numbness and the possibility of lip-biting
Quicker onset of anesthesia. No waiting period necessary to allow the numbness to take effect. Treatment begins immediately