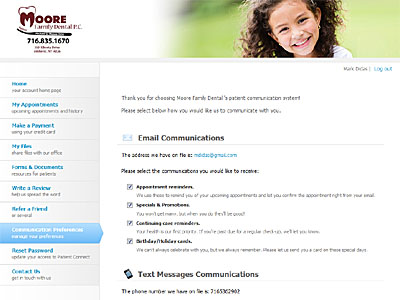 Moore Family Dental offers a secure and private website to help you manage your dental health. Our Patient dental portal is completely free to all patients. We invite all patients to take a moment to set up your personal account and configure your preferences.
Use your private account to:
Set appointment reminders via email and/or text
Access your appointment and treatment history
Request appointments online
View your account and insurance balance
Make a payment
Life can get pretty busy
We understand that work commitments and family situations can complicate schedules. Our goal is to help you manage some of the details related to your dental health. We've found that the more flexibility and control we offer patients – the better the response. This means on-time appointments, efficient follow-up visits and overall streamlined services. It all helps Moore Family Dental to run smoothly. It's a win-win situation for everyone!